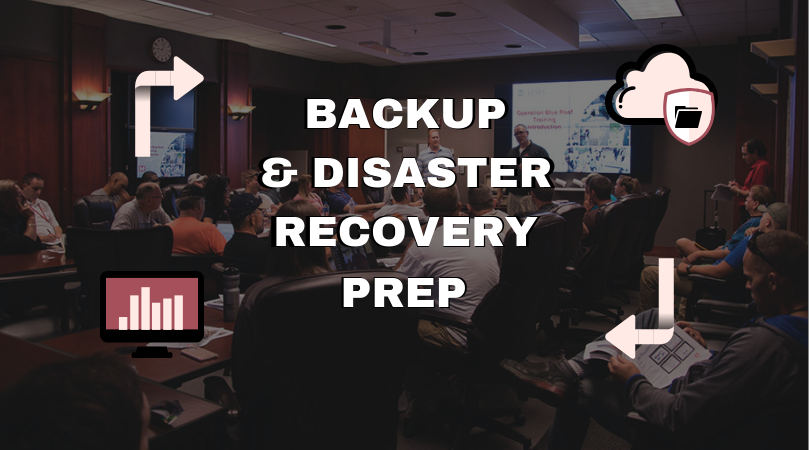 With the amount of data businesses hold, it's no secret that backups are key. Since we started typing term papers on word processors we learned–many of us the hard way–the importance of saving our work. While many of today's IT solutions offer constant saving of individual work, it's vital that businesses think big picture, long term and address very real risks. This month, Computer Resources of America is looking at backup and disaster recovery preparedness: what it is, why it's important, and the best solutions for businesses of all sizes.
The Stats Have Spoken: Backup and Disaster Recovery Preparedness Must be a High Priority
Many businesses don't prepare for disaster. They think of disaster as something outside the realm of possibility. When companies need to use their disaster recovery plan it's not for these crazy situations. The numbers speak for themselves.
78% of backup and recovery follows unexpected hardware or software malfunction. Disaster can be something as simple as a piece of equipment failing or a glitch in software code.
11% of the need to backup and recover is caused by human error. That's right. Someone making a simple mistake can cause unfortunate data loss.
Despite the fact that the catalysts for backup and recovery are so pedestrian, companies, especially those at highest risk for things like hacks, don't take disaster recovery plans seriously. A survey of 1,000 North American businesses in 2018 showed that nearly 70% had an incomplete disaster recovery plan. Of those who have a complete plan, only 67% say it is formally implemented in their operations. About a third of the companies taking part in the survey had experienced a planned attack, which is far less common than other classifications of disaster.
When SMBs were asked why they don't have disaster recovery plan 21% say it's because it's not a high priority (Xxpert). It should be.
93% of companies that lose their data for 10 days file for bankruptcy within one year. Half of them file immediately. That's a terrifying statistic, especially if your company is one of the many not thinking about backup and disaster recovery preparedness.
Start Developing Your Backup Plan
Before doing anything else, it's time to ask yourself about your business. Scott Kinka of Evolve IP has a great series of baseline questions to which we've added some important elements.
Do we have a BDR?

Is it complete?

Do key people in your organization know about the plan?

Have you tested your plan in the last year?

If you did, how did it go?

Have you addressed any problems you discovered?

What are you goals for recovery points and recovery time?

Does your plan cover all systems or just some?
The answers to these questions will give you a smart place to begin.
What Does Backup and Disaster Recovery Preparedness Look Like
In short, this is a written plan that outlines how to keep operations going after disaster strikes.
Plans will change based on business size and needs, but there are things that every plan must have and the planning progress must include.
Take stock of your current systems. Make a prioritized list of the devices and services most critical to your business.
Don't forget people. People are a huge part of any backup and disaster recovery preparedness measures. List the key people who will need to be involved as well as their roles post-disaster. Update emergency contact information regularly and keep up on staffing and organizational changes. This updated list is an effective way to easily access the people you need.
Cleanly outline systems and actions. While prioritized systems and key players lists are vital, the bulk of your plan will look at all systems and how they're backed up. This way you'll be ready to take the necessary actions if you experience a loss of data. While developing this plan it's a good idea to think about the type of backup system you need. Change what doesn't work: the return on this investment could be the difference between weathering the storm or being drowned by it.
Don't forget to make sure your plan includes who is responsible for what: accountability is instrumental. If your organization is large enough, make sure to have a backup person at each step; just in case someone is unavailable during the drill.
Backup systems must be secure. Make sure you run a scan on your cybersecurity and that all software and network patches are up-to-date before you backup. Otherwise you could save bad data. Which means bad data is what you'll restore.
Hold drills. Check your backup systems regularly to make sure that they are working with your plan. Businesses who don't run tests often discover that their backup and disaster recovery preparedness fails when they actually need it. Better to find out during a drill—which we recommend running through once each calendar year.
Choose the Right Backup System
There are several different ways to backup a system. Continuum covers the advantages and disadvantages, along with notes on backup and recovery times. Computer Resources of America recommends having both on-site and off-site backups as part of every backup and disaster recovery plan. Additionally, the best thing you can do for your business is work with experts to design and install the best plan. Contact us to today to learn how we can help you assess your needs and whether our proprietary system, Continuity, is the right option for you.
Consult CRA: Managed Data Backup & Disaster Recovery - BDR Services